paper slitter and rewinder supplier
Datetime: 8/16/2019 2:39:00 PM Visit: 1153
Wenzhou Winrich Machinery Co.,ltd is located in Pingyang county,Wenzhou city of Zhejiang Province,China, established in 1996. It covers land area of 15,800sqm.standardized workshop of 11,000 sqm,and holds 50-100 sets machines production every month,which is the largest in Wenzhou.
Company's main products are:extrusion coating and lamination machines, slitter and rewinder, paper cutter and sheeter, which are widely used in paper, cloth, metal foil, plastic bags, non woven fabric and other materials. Machines are pretty popular in Southeast Asia, Middle East, Eastern Europe, South America, Africa and other countries, it also has occupied 80% of Chinese market. Strong technical team, sophisticated production process, perfect testing means, excellent management level, timely after-service, makes it a professional and brand manufacturer of printing and packaging equipment in China.

product description
FQJ 1100B-1700B microcomputer high speed paper slitter and rewinder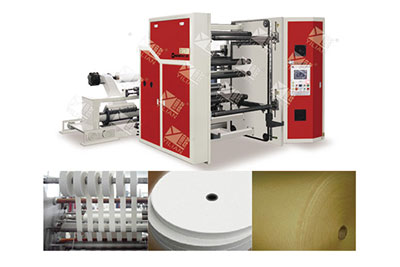 FQJ1100B-1700B type microcomputer high speed paper cutting machine is suitable for cutting edge and cutting of large coiled material. Such as printing and packaging plastic membrane type, paper, cloth and all kinds of paper plastic composite materials such as Lin Mozhi, coated paper, synthetic leather, such as.
Performance and characteristics:
1.the use of circular knife cutting, division of high precision, easy to operate, the cutter can be arbitrarily adjusted;
2.the use of A, B axis independent winding, loading and unloading operation is convenient;
3.fold and shaft adopts inflatable shaft, automatic tension control, orderly and compact rewinding of finished products;
4.the feeding support is of automatic hydraulic shaftless lift device, heavier loading.
5.waste edge automatic discharge device;
6.this machine adopts frequency conversion speed regulation. Microcomputer automatic control, selection of imported Yuan Electrical corrective device, automatic meter alarm parking, tension digital display advanced features.
Technical parameter:
| | | | |
| --- | --- | --- | --- |
| model | FQJ-1100B | FQJ-1300B | FQJ-1600B |
| diameter of unwinding | 1400mm | 1400mm | 1400mm |
| width of slitting | 1000mm | 1200mm | 1500mm |
| diameter of rewinding | 1000mm | 1000mm | 1000mm |
| width of rewinding | 30mm | 30mm | 30mm |
| slitting speed | 10-260m/min | 10-260m/min | 10-260m/min |
| slitting accuracy | ±0.3mm | ±0.3mm | ±0.3mm |
| power | 12kw | 15kw | 16kw |
| electric | 380V/50Hz Tri-phase | 380V/50Hz Tri-phase | 380V/50Hz Tri-phase |
| requirement of air pressure source | 5.5kg/cm2×0.5m3/min | 5.5kg/cm2×0.5m3/min | 5.5kg/cm2×0.5m3/min |
| weigh | 2800kg | 3000kg | 3300kg |
| overall dimension | 3800×3400×1800mm | 3800×3600×1800mm | 3800×3900×1800mm |
SJFM1100-2300E Extrusion Film EPE Laminating Machine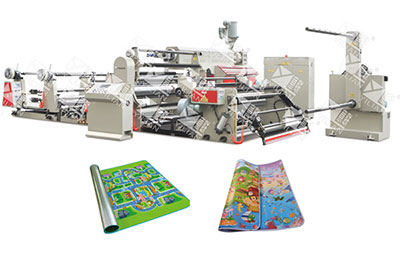 Main Features:
This series of products are mainly plastic film,EVA,Foam,aluminum foil as substrate, by casting a compound into two layer, three layer (sandwich), widely used in foam packing material . Such as making baby game pad, car window sunshade and so on. PLC man-machine interface control, machine, electricity, gas, integrated design; high precision Die head, high efficiency, high speed mixed refine screw, swift filter screen changer, 360o second reel; This series of Extrusion Lamination Machine can be equipped with a single extruder. Double screw extruder, multi-stage attack realize multilayer coextrusion.
Main Technical Variables:
| | |
| --- | --- |
| MODEL | SJFM1100-2300E |
| mechanical Specifications | 1100-2300mm |
| max.speed of coating film | 50m |
| Suitable coating resin film | PE、PP 、EVA |
| Suitable base material | EPE、BOPP、BOPET、(AL) |
| width of coating film | 1000-2200mm |
| thickness of coating film | 0.012~0.1mm |
| inaccuracy thickness of coating film | ≦±5mm |
| complex cooling roller | Φ350mm、Φ500mm、Φ600mm |
| screw specification | (L/D)Φ90:33、Φ100:33、Φ110::33: |
| main unwinding diameter | Φ800-1300mm |
| diameter of auxiliary unwinding | Φ600mm |
| diameter of rewinding | Φ800-1300mm |