paper slitting machine supplier
Datetime: 8/23/2019 3:07:00 PM Visit: 1263
Wenzhou Winrich Machinery Co.,ltd is located in Pingyang county,Wenzhou city of Zhejiang Province,China, established in 1996. It covers land area of 15,800sqm.standardized workshop of 11,000 sqm,and holds 50-100 sets machines production every month,which is the largest in Wenzhou.
Company has strong technical strength, sophisticated production equipment, perfect testing means, excellent management level, set the "scientific research, development, sales, service" as one of the joint-stock enterprises.

product description
FQJ 1100A-1700A microcomputer high speed paper slitting machine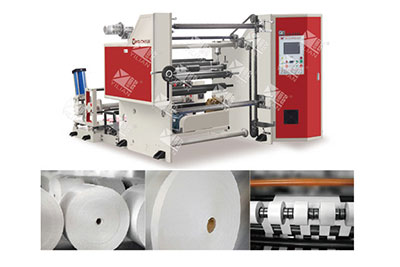 Main features:
1 using circular knife cutting, cutting high precision, convenient operation, the cutter can be adjusted;
2 the A and B axis independent winding, convenient handling;
3, shaft adopts automatic tension control, inflatable shaft, orderly and compact rewinding of finished products;
4 feeding frame adopts pneumatic automatic lifting function;
5.Automatic discharging device for waste
6 this machine adopts frequency conversion. Microcomputer automatic control, selection of imported photoelectric deviation device, automatic meter, alarm stop, tension digital display and other advanced features.
Use:
This machine is applicable to the edge of large roll material cutting, slitting, such as printing and packaging plastic membrane type, paper, cloth, and all kinds of paper plastic composite materials such as Lin Mozhi, coated paper, synthetic leather, such as.
Technical parameter:
| | | | |
| --- | --- | --- | --- |
| model | FQJ-1100A | FQJ-1300A | FQJ-1600A |
| diameter of unwinding | 1400mm | 1400mm | 1400mm |
| width of slitting | 1000mm | 1200mm | 1500mm |
| diameter of rewinding | 1000mm | 1000mm | 1000mm |
| width of rewinding | 30mm | 30mm | 30mm |
| slitting speed | 10-260m/min | 10-260m/min | 10-260m/min |
| slitting accuracy | ±0.3mm | ±0.3mm | ±0.3mm |
| power | 10kw | 11kw | 12kw |
| electric | 380V/50Hz Tri-phase | 380V/50Hz Tri-phase | 380V/50Hz Tri-phase |
| requirement of air pressure source | 5.5kg/cm2×0.5m3/min | 5.5kg/cm2×0.5m3/min | 5.5kg/cm2×0.5m3/min |
| weigh | 2800kg | 3000kg | 3300kg |
| overall dimension | 3800×2500×1800mm | 3800×2800×1800mm | 3800×3100×1800mm |
GSFQ 1100-1700 high speed paper slitting machine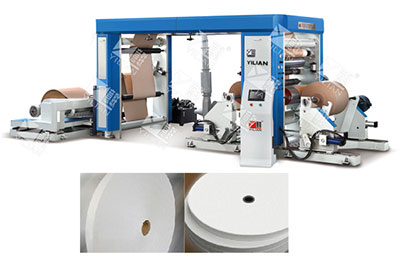 This machine is suitable for cutting edge and cutting of large coiled material. Such as printing and packaging plastic membrane type, paper, cloth class and all kinds of paper plastic composite materials such as Lin Mozhi, coated paper, synthetic leather
Main features:
1 round knife cutting, cutting precision is high, the operation is convenient, and the cutter can be adjusted freely.
2 using A, B axis independent winding, automatic loading and unloading, easy to operate
3 winding with inflatable shaft, automatic tension control, surface friction; center winding, winding product tidy and compact
4 discharge frame adopts hydraulic Wuzhou automatic lifting function
5 waste edge automatic suction discharging device
6 this machine adopts frequency conversion and speed regulation, PLC automatic control, selection of imported photoelectric error correction device, automatic meter, alarm stop, tension digital display and other advanced functions
Form of production:
This machine is suitable for cutting edge and cutting of large coiled material. Such as printing and packaging plastic membrane type, paper, cloth class and all kinds of paper plastic composite materials such as Lin Mozhi, coated paper, synthetic leather, such as
Main technical parameters:
| | | | |
| --- | --- | --- | --- |
| model | GSFQ-1100 | GSFQ-1300 | GSFQ-1600 |
| diameter of unwinding | 1400mm | 1400mm | 1400mm |
| width of slitting | 1100mm | 1300mm | 1600mm |
| diameter of rewinding | 1400mm | 1400mm | 1400mm |
| min width of rewinding | 30mm | 30mm | 30mm |
| slitting speed | 10-300m/min | 10-300m/min | 10-300m/min |
| slitting accuracy | ±0.2mm | ±0.2mm | ±0.2mm |
| total power | 25kw | 28kw | 35kw |
| electric | 380V/50Hz Tri-phase | 380V/50Hz Tri-phase | 380V/50Hz Tri-phase |
| requirement of air pressure source | 5.5kg/cm2×0.5m3/min | 5.5kg/cm2×0.5m3/min | 5.5kg/cm2×0.5m3/min |